Professional Stenographers & Court Reporters in Nashville, Tennessee
Need Court Reporting Services?
Contact us today
 to see how we can put our over 100 years of combined court reporting experience to work for you.
Testimonials From Our Nashville Court Reporting Clients

"I want to compliment on two of your reporters, Mindy and Laura. They have both reported depositions that I have attended. Both are pleasant, very capable and always professional. Recently, Mindy reported a long, trying and difficult deposition. Mindy and Laura both have a nice way in the manner they comport themselves. Mindy especially was most patient with all of us. I am not surprised to see such quality people associated with your company. They are a reflection on you – a class act."

"I first met Mindy when she came to my office several years ago to serve as the court reporter for a day of depositions in a complex case. She was not my court reporter that day in that she had been hired by the defendants. The depositions that day were long and exhausting. She handled the depositions in a competent, professional manner. I was impressed. Her work product was excellent. As a result, I began hiring her myself to handle my depositions. She has done every job well and completed the depositions promptly. I can recommend her without reservation."
Our Professional Court Reporting Association Affiliations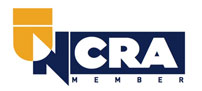 Have a question? Contact Beres & Associates today.
Contact us directly by emailing us at:
info@beresandassociates.com
Or call today! 615.742.2550
Beres & Associates offers the highest quality and customer service to all of its court reporting clients. As the oldest court reporting firm in Nashville, and also offering court reporting services to Franklin TN, Brentwood TN, Hendersonville TN, and surrounding areas, we boast decades of experience and relationship-building with law firms all over Middle Tennessee. If you have a question about our services, please fill out the simple contact form. If you are ready to schedule your court reporting appointment, please click here.